France news
Le Graet criticised over Blanc exit
French media blames federation for loss of coach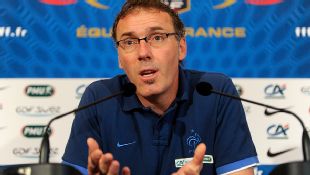 French Football Federation president Noel le Graet has faced intense criticism in the country's media following the departure of national team head coach Laurent Blanc.
"Hopeless!" was the headline of Le Parisien, while Le Journal de Dimanche accused the president of offering a new contract with conditions that he knew Blanc would not accept.
Blanc left the France job on Saturday, the date of his contract's expiry, and days after defeat in the quarter-finals of Euro 2012 to Spain. Despite criticism over the manner of his side's exit, though, the former Bordeaux manager remains a popular and well supported figure.
It was Le Parisien who led the criticism, firing: "The French football team cannot help itself. In crisis for the past four years, not only in sporting terms but also its image, which it lets slide wherever it lands, it has sunk even lower after the spectacular departure of Laurent Blanc.
"Stained by the six years of Raymond Domenech's reign (a coach who always had the support of Le Graet) and by a federal system almost on its last breath, the French team does not have one united voice to rally round it."
"The French team has become demoralising, hopeless, firstly because of the mistakes that have been made and secondly by the environment surrounding it which constantly keeps forcing its head under water. Les Bleus are essentially sick."
Le Graet now starts the search for a new manager for the French side, but will do so in the knowledge that his future may be dependent on making the right selection, with his reputation hit more than Blanc's by recent events.