Italy news
Prandelli: We've rebuilt enthusiasm
Italy coach believes fans are enjoying watching their team again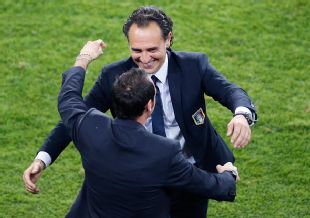 Cesare Prandelli says he is proud of the way in which Italy have won back the admiration of the country's football fans.
The coach steered his side into Sunday's Euro 2012 final with a memorable victory against Germany, secured by two Mario Balotelli goals, and believes supporters are enjoying watching their team again after the disappointment of the 2010 World Cup.
"That gives me great satisfaction, because we wanted to get closer to the people," he told UEFA.com. "With the performances that we gave and the generosity we played with, and with a team that never gives up, we've managed to rebuild the enthusiasm around the team."
He said he was delighted with the way in which Italy had improved as the tournament went on, and called for one last big effort against Spain in the Kiev final.
"I am very proud because, game after game, these guys have always looked to play good football, and for a manager that is the main objective," the 54-year-old added.
"We have managed to give this team a way of playing good football. We have trained hard and, with a quality midfield, we've improved game after game."
He said he was expecting a different sort of challenge to that faced by the Italians when they played Spain in their opening group game. The Azzurri took the lead that day, but were held to a 1-1 draw.
"It's going to be a different kind of game," Prandelli said. "Then, we were coming from a particular moment. Now we are playing against the best team in the world, probably, because they have a continuity of performances, they have a philosophy of play and a work ethic.
"We have the desire to face them and to play this game, trying to risk something, but thinking that we can play our way."