Italy news
Buffon: Italian mentality is unique
'Respect and love for the national squad goes beyond anything else'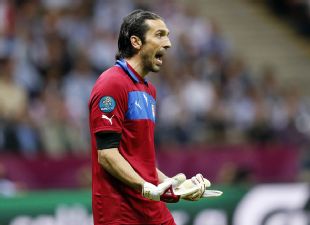 Italy goalkeeper Gianluigi Buffon believes his side's run to the Euro 2012 final has shown the squad's pride and resilience in the wake of the match-fixing scandal that has engulfed the domestic game.
The scandal saw Atalanta and newly promoted Pescara docked two points for the 2012-13 Serie A season following the "Last Bet" investigation into fixing.
Days before the tournament started, defender Domenico Criscito was withdrawn from the Italy squad. Criscito was implicated in the police investigation into match-fixing, with officers searching his room at the Italian training camp in Coverciano.
But domestic crisis seems only to have inspired the Azzurri – as it did in the World Cup-winning years of 1982 and 2006 – and Buffon explained: "There is something unique in the Italian mentality.
"Beyond everything that has been said, and the rumours, Italians have a lot of respect and love for the national squad which goes above and beyond anything else.
"We have the opportunity to show just how great our country is. It's not always easy, but we always try and find a way of getting a solid squad. There's a lot of solidarity and we're thinking along the same lines. That's our strength.''
The Italy skipper hailed the contribution made by Mario Balotelli, whose two goals against Germany steered the Italians into the final.
Last year, Italy coach Cesare Prandelli dropped Balotelli for disciplinary reasons, but Buffon believes the striker is now displaying his will to succeed.
"Mario has done very well thus far," the keeper said. "He has great natural talent and that is a fantastic starting point for him.
"In addition, he has been able to work with a coach who, in a number of ways, has managed to get the best out him. Mario deserves the most credit because he's really worked hard and wanted to succeed.'"
Prandelli revealed that a good luck message from Italian president Giorgio Napolitano had been read to the players on Saturday night.
Napolitano has also invited the players to a civic reception in Rome whatever the result on Sunday, and Prandelli said: "I've read the letter. These are fantastic words.
"He's conveyed the idea of team spirit, determination and generosity. That is what he wants us to convey to the country. I am very proud. I hope we can live up to his expectations."
Prandelli dismissed critics who have claimed that Spain's performances in this tournament have been boring, insisting: "Spain are the best side in the world.
"It's not a case of them being boring - it's a fear of seeing the same side always winning, and Spain always seem to come out on top. They are not boring in any shape or form."