Italy news
We'll be positive, says Prandelli
Coach says Italy must remain focused to lift trophy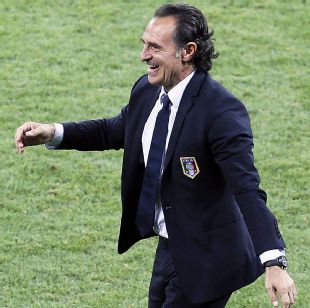 Cesare Prandelli says Italy will be positive and take the game to Spain when the two sides clash in the Euro 2012 final in Kiev.
Prandelli called on his players to "shut down the space, especially in midfield and win possession" and said they "must remain focused" if they are to prevent the Spanish from claiming an unprecedented third successive international tournament win.
And he revealed that he would not start with three at the back, as he did when the two sides drew 1-1 in their opening group match, adding: "I'm not considering it. Over the last few games we've had a lot of balance. But we know that, over the course of the match, we know we could switch to that."
The coach praised the attitude of striker Mario Balotelli, the two-goal hero of the semi-final victory over Germany and said: "We have always felt he had great ability.
"He has found a set-up where he can talk to great champions who have won a lot of trophies and achieved a lot. There comes a time when you have to be brave enough to accept other people's advice because the result becomes paramount.
"We have asked him to do certain things and, at this moment in time, he is doing them."
And he said he hoped Italy's ability in the middle of the pitch could prove telling, explaining: "Our central midfield has a lot of quality.
"We can run a lot and press a lot, and in Andrea Pirlo we have a player who could do special things with the ball. A lot of the time the other midfielders are just trying to make space for him."
Italy keeper Gianluigi Buffon said the squad has "a strong mindset and that can bring titles" but warned that the confidence Spain had gained from winning Euro 2010 and the World Cup in South Africa two years ago could only help them.
"I'd be be very happy and sure of myself if I was going into a final having won the last World Cup and Euros," he said. "It has to be an advantage to Spain that they have this mentality."
Prandelli also hit out at critics who have described Spain's displays at the tournament as boring, suggesting the comments were born of resentment that Vicente del Bosque's side kept winning.
"That assessment comes from the fact the same side has always been winning," he said. "I don't think they are boring in any way, shape or form.
"Spain are the best side in the world, as they have shown over the last few years. They stay true to their footballing philosophy, and they're always the side to beat."
He revealed that the Italian party has received a good luck message from the country's president, Giorgio Napolitano, who has invited the players to an official function in Rome on Monday.