Ukraine news
Ukraine FA chief hits out at Campbell
Federation president was angered by defender's warning to fans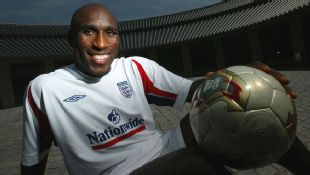 The president of Ukraine's football federation (FFU) has hit out at the BBC and former England player Sol Campbell over pre-tournament claims that fans faced the threat of racism and violence at Euro 2012 games.
Campbell, responding to footage of racist violence at Ukrainian domestic matches, suggested that fans who attended the tournament could be at risk of "coming back in a box."
One group of England supporters paraded a mock coffin before the final group game against Ukraine to show their feelings about the former defender's remarks.
In what has been a mostly peaceful tournament, incidents of trouble saw stewards attacked by Russian fans during their country's game against Czech Republic. Violence broke out before the match between Poland and Russia, while Croatia, Spain and Russia were all fined by UEFA over racist behaviour by their supporters.
UFF chief Gregory Surtis said: "The best reply to the BBC and Sol Campbell, who declared that there was racism in Ukraine and maybe fans wouldn't go back to England was, I think, English fans who actually took the coffin out prior to the match in Donetsk.
"What impresses me is that a person who has never been to Ukraine can give such commentary about the country.
"Yes, it is true that, as an independent country, Ukraine is only 20 years old. But it has made a huge contribution on infrastructure and done everything possible to be a reliable partner to UEFA for this tournament."
The UEFA president, Michel Platini, said he was proud of the success of the event as he looked ahead to the final.
"The overwhelming feeling I have today is pride," he said. "Pride for Poland and Ukraine, so often decried but who proved they were up to the task by putting on such a great tournament, and pride for the people of Poland and Ukraine, who were such wonderful hosts.
"Good luck, France [which hosts the 2016 Euros] - because the bar has been set very high."