Portugal news
Bento tips Ronaldo for top prize
Portugal coach feels captain deserves to be named world's best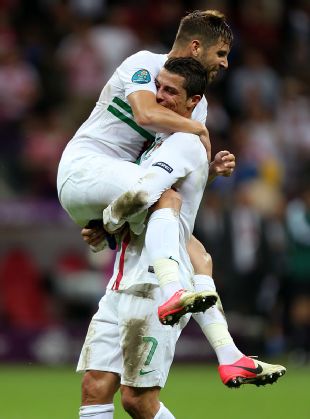 Portugal coach Paulo Bento has suggested Cristiano Ronaldo should be favourite to win the FIFA Ballon d'Or this year despite the failure to win Euro 2012.
Real Madrid star Ronaldo claimed the Ballon d'Or and FIFA World Player of the Year in 2008, but Barcelona rival Lionel Messi took both awards the following year and then claimed the new hybrid FIFA Ballon d'Or in 2010 and 2011.
It has been argued that Ronaldo, whose 46 goals helped his club to the league title, would have been favourite for the prize had Portugal claimed glory at the European Championship, but ultimately they exited with a penalty shootout defeat to Spain in the semi-finals.
Ronaldo, though, has said he is "always confident" he will win the award, and Bento feels he should be the favourite.
"He is one of the best in the world and I think this year he will be considered the best in the world," he said. "He didn't need to win the European Championship for that. He's a human being who has spent the last 11 months under intense pressure."
He added: "He was a perfect captain. He has an extremely high level of professionalism and shows it at all times."
Meanwhile, Nani has confirmed Ronaldo asked to take the fifth penalty in the shootout against Spain.
Ronaldo did not get to take his kick after Cesc Fabregas' fired home to give Spain a 4-2 win, and the Madrid star had said afterwards that Bento had asked him if he wanted to take the final penalty.

Nani, who had scored his spot-kick, said: "Cristiano Ronaldo demanded the last penalty. I said to the coach I would accept any order. It didn't seem to be a problem to me, because penalty shootouts are all about luck and we did not deserve to lose like that."