France news
Gallas: Nasri shown true colours
Defender blames former team-mate over dispute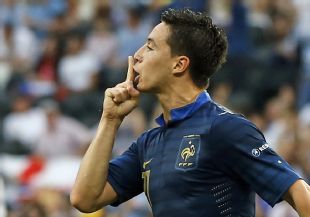 Former France defender William Gallas has attacked Samir Nasri over his conduct at Euro 2012, insisting it is in keeping with the player's character.
Gallas, who has had a long running dispute with his former Arsenal team-mate, believes that he has faced undue criticism over the feud, with Nasri the instigator of the confrontation.
At Euro 2012, Nasri twice found himself among the headlines for the wrong reasons, following a goal celebration telling French newspaper L'Equipe to be quiet and a foul-mouthed rant at a journalist in Donetsk, as France crashed out of the European Championship at the quarter-final stage.
"People have really learned for themselves who Samir Nasri truly is. And I wasn't in Ukraine or Poland," Gallas told France Football. "He never stopped believing that I was the worst person, and has dirtied my name. You know, I took an earful.
"It was always my name in the press or elsewhere, fingers were always being pointed at me, while many of the people in the world of football were aware of Nasri's character. There was a match with Arsenal in Rome, and a serious discussion in the changing room at the end of the match. He lost a ball, I showed my disappointment, and he called me a 'son of a w****'."
Gallas, though, does not solely blame France's young players for what is seen as widespread arrogance, adding that the clubs and coaches must take their share of the responsibility for the problem.
"I don't want to make excuses for the young players who have big heads, but they're not the only ones to blame," he added. "When a youngster has talent and is coveted by big teams, his club does everything to keep him, and accepts his every whim.
"They [the players] don't have the circumspect, or enough maturity to take a step back. Everything happens too fast for them, and they no longer control the situation. I remember once, you used to, quite rightly, wait your turn for the France team, even if you were a talented young player. Today, the coaches give them the keys immediately."