Netherlands news
Koeman: Gullit should coach Dutch
Koeman tips former team-mate for head coach role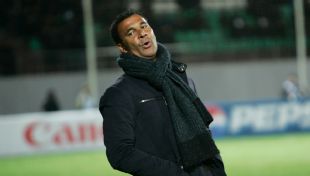 Feyenoord coach Ronald Koeman has dismissed talk linking him with the vacant Netherlands head coach job and instead tipped former team-mate Ruud Gullit to take the helm.
Koeman, 49, has told reporters that he is unavailable to take the job due to his contract with Eredivisie club Feyenoord, but believes that former Chelsea and Newcastle boss Gullit is a good choice for the job.
The position is available following the resignation of Bert van Marwijk, who quit after Netherlands' embarrassing exit from Euro 2012 with three straight defeats in the group stage.
"It is not a secret that I have the ambition to coach Netherlands," Koeman told Voetbol Zone. "But I have a contract with Feyenoord and there is a not a clause that will allow me to leave. I will coach Feyenoord next season, that is for sure. Ruud Gullit? He would be a good choice."
Dirk Kuyt, though, expressed his sadness at the departure of Van Marwijk.
"It is frustrating that my time with Van Marwijk has ended," Kuyt, who will link up with Fenerbahce for the new season after leaving Liverpool, told De Telegraaf. "I still have a special bond with him. We performed exceptionally well until Euro 2012. I will definitely call him to thank him, especially for what we did at the 2010 World Cup."