Germany 1-2 Italy
Lahm rues Germany mistakes
Defender laments Germany shortcomings after semi-final defeat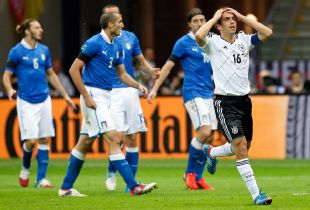 Captain Philipp Lahm says Germany have their own poor defending and profligate finishing to blame after slumping to a 2-1 defeat in the Euro 2012 semi-final against Italy.
Mario Balotelli scored both goals for the Azzurri on what the striker described as "the most wonderful night of my life", but Lahm believes the Italian's brace could have been prevented.
"If you make the mistakes we did then you're going to struggle," Lahm said on UEFA's official website. "The way in which Italy's goals were scored shouldn't happen.
"If you make the mistakes we've made, be it the first or second goal, then you are struggling against a technically skilled team like Italy."
After going two goals down at the National Stadium, Germany battled to get back into the match but failed to convert the chances they created, only scoring from the penalty spot in the final minute following a handball from Federico Balzaretti.
"In the second half, we did everything within our power. We gave our best, but we scored too late," Lahm said. "Shortly after half-time we had a great opportunity. That could have been the chance to get back in the game and to go on and win.
"We had some goalscoring chances, but maybe we simply weren't lucky."
The Germany left-back said missing out on the final was particularly hard to take because the Nationalmannschaft had the ability to set up a clash with defending European champions Spain in Kiev.
"This is hard as I see a lot of potential in our team, but if you don't manage to call on this potential at the right time or if you're not clever enough in certain situations, then you lose a match like this."