Germany 1-2 Italy
Low: Tears in the dressing-room
Coach and captain reveal Germany's devastation at semi-final defeat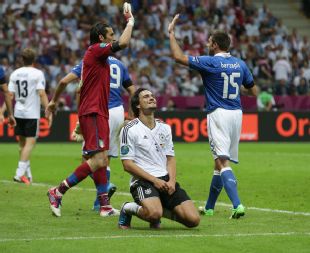 Germany coach Joachim Low said the dressing-room was "as quiet as a mouse" after his side were eliminated from Euro 2012 at the hands of Italy.
A brace from Mario Balotelli saw the Azzurri progress to a European Championship final against Spain at the expense of Germany, who had been pre-match favourites after winning 15 successive competitive internationals prior to the last-four encounter in Warsaw.
Low's charges were unable to find a way through a resolute Italian defence and the Euro 2008 finalists were left emotionally crushed by the 2-1 loss, according to their coach.
"There are tears flowing in the dressing-room," he said. "The dressing-room is as quiet as a mouse because no-one wants to speak a word."
Low was left to lament Germany's defensive errors, and the ruthlessness of Balotelli, in the wake of his side's elimination.
"They punished us for our mistakes and went into the break 2-0 down against such a classy side as Italy, so it was always going to be difficult to get back into it," he said.
"Balotelli is a talented player, we knew that, but he punished us with two goals and we were not entirely free from errors in those moves."
Low was bullish over suggestions that his team crumbled, insisting that they have played well throughout.
"We've had two great years,'' said Low. "The team has really developed well. We won 15 games in a row but lost today against an incredibly strong Italian side, with a strong axis and two great strikers. There's no reason to doubt ourselves. Our team was the youngest team here.
"Even though there's disappointment today, we played a wonderful tournament and I am sure we will be able to cope with this defeat.''
Germany captain Philipp Lahm also blamed the defensive errors, one of which was his own as he let Balotelli escape his clutches to score Italy's second, for his side's defeat.
"This is very, very painful," Lahm said. "We made stupid mistakes and threw away the goals. In the second half we tried everything. It is painful because our team has so much potential."

Despite a front-line of Andre Schurrle, Marco Reus and Miroslav Klose impressing in the quarter-final victory over Greece, Mario Gomez and Lukas Podolski were restored to the starting line-up against Italy, while Toni Kroos was also drafted in.
It was a change that didn't pay dividends for Germany, but Low defended his decision, saying: "I could've used another line-up, but Gomez had scored three goals and Podolski netted too, so I thought it was right to play them together."