France news
Blanc future still uncertain
No resolution after talks over French coach's contract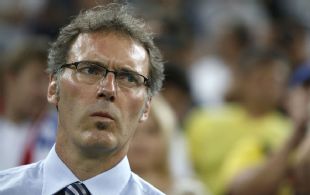 Laurent Blanc's future as France coach is still uncertain after no resolution came out of talks with the French Football Federation.
Blanc's contract expires on June 30 and speculation continues to suggest that he will leave his post after France's disappointing Euro 2012 quarter-final exit to defending champions Spain.
Blanc has been linked with Tottenham in recent weeks and spent most of Thursday in discussions with FFF president Noel le Graet. Both parties are now set to take time to reflect on their respective positions.
A statement on the Federation's website said: "Noel le Graet and Laurent Blanc held a lengthy meeting during the day on June 28.
"Following their discussion, the president of the FFF and the coach agreed to give time for reflection."
Once again, France's tournament was blighted by tales of dressing-room unrest while Samir Nasri had a very public dispute with a French journalist.
The FFF said it will conduct a review of the team's performance at a meeting on July 3 and then hold a press conference afterwards, when Blanc's future should become clearer.
The former Manchester United and Barcelona defender admitted things had "kicked off a bit" after his side's shock defeat to Sweden in their final group game, which saw England leapfrog them into top spot.
After their exit to Spain, Nasri swore at a reporter in the mixed zone after the game, an incident for which he later apologised. The headlines bore echoes of Les Bleus' disastrous 2010 World Cup campaign under Raymond Domenech.
However, Blanc's skipper captain Hugo Lloris was quick to defend his team-mates. "It looks like it only happens in the France team and to this France team,'' he told L'Equipe.
"But it happens to all generations at all levels. Something like that should stay in the dressing room. It's about the squad, not individuals. This is where things like this bother me because this is not the first time it has happened.
"I cannot condone what Samir said. But I find it unacceptable that people use that one incident to sum up the behaviour of the team.
"Everything has been mixed up. In sporting terms, it's true the Euros have not been perfect but we must judge things on our journey over the last two years.''
Lloris also gave his backing to Blanc and hopes the coach stays on in his current role. "Everyone listens to the philosophy and words of the coach,'' he said. "The decision belongs to the (FFF) president and the coach, but we are in favour of continuity.''