Germany v Italy
Montolivo: Azzurri will attack
Italy won't alter approach to deal with Germany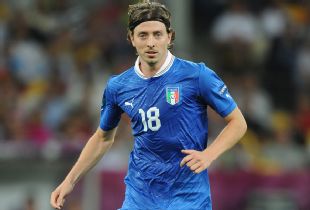 Riccardo Montolivo insists Italy will take the game to Germany on Thursday night in what he expects to be "a crazy semi-final" at the National Stadium, Warsaw.
Midfielder Montolivo helped Italy dispatch a defensive England in the quarter-finals and although Germany - one of the favourites to win Euro 2012 - pose a different set of problems the Azzurri will maintain the same attacking approach.
"By playing an expansive game from the start of the tournament until now, we have kept improving and we aim to do the same in the next match," Montolivo told uefa.com. "We're facing a great team, and we will do so playing open football. We will keep playing the same way."
Italy coach Cesare Prandelli has imposed a more progressive style of football on the national side during his time in charge, something Montolivo also experienced during the 54-year-old's five seasons in charge at Fiorentina.
"I know Prandelli very well," said Montolivo. "He has brought a sense of calm and has got us playing football. That has been our prerogative for the last two years and we will continue to play this way. His best quality is that he knows how to coach football – he is like a teacher."
Italy had to play extra-time and endure a penalty shootout to get past England but Montolivo believes his team have enough strength in depth to cope with the additional playing time, and two days less rest than the Germans.
"Italy's strength is our squad," said Montolivo. "Each and every one of the 23 players are giving their all to the cause. We have been playing together for two years now. The squad has stayed essentially the same and so we have the option to rotate players. We can swap one player for another without adversely affecting the way the team plays.
"We have what it takes to go all the way and we have shown how good we are in our matches to date. At this point we have to give it everything we've got, regardless of who we are playing.
"We have got Germany next but it could have been anyone; (the final in) Kiev is our objective and it is well within our compass"
Montolivo made his first start of Euro 2012 against England in place on the injured Thiago Motta, who may recover in time to face Germany, but fellow midfielder Daniele De Rossi is also a doubt for the semi-final.