France news
Lloris backs France team-mates
Skipper says dressing room rows 'happen at all levels'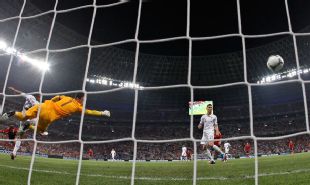 France captain Hugo Lloris has backed his team-mates amid public anger following reports of dressing room infighting and the news that Samir Nasri had launched an abusive tirade at journalists.
France crashed out of Euro 2012 in meek style, losing their quarter-final against Spain 2-0. Reports of unrest in the camp first surfaced after a 2-0 defeat in their final group game against Sweden, with further bust-ups reported after the Spain match.
Nasri behaved abusively towards journalists after that match, and has since used Twitter to apologise for his actions.
The controversies brought back memories of France's shambolic 2010 World Cup campaign under Raymond Domenech, which was also marred by infighting, but goalkeeper Lloris told L'Equipe: "It looks like it only happens in the France team and to this France team. But it happens to all generations at all levels.
"Something like that should stay in the dressing room. It's about the squad, not individuals. This is where things like this bother me, because this is not the first time it has happened.
"I cannot condone what Samir said. But I find it unacceptable that people use that one incident to sum up the behaviour of the team.
"Everything has been mixed up. In sporting terms, it's true the Euros have not been perfect - but we must judge things on our journey over the last two years."
Nasri had been asked to comment by French journalists after the Spain match. He responded by saying: "You're always looking for stories," before returning to add: "Go f*** yourself."
His outburst led to speculation that he could be banned from international football for two years as the French Football Federation (FFF) prepared to meet to discuss the aftermath of the Euro 2012 campaign.
Nasri tweeted that he "loves the France national team and has a deep respect for the public" and that contrary to "untruths" he "sincerely regrets that supporters, and especially children, had been shocked by my words."
He explained that the situation is "a personal matter between several journalists and me... I will explain when the time is right."
The FFF said it would convene next week, with a press conference taking place afterwards at which its president Noel le Graet will answer questions.
L'Equipe reported that France coach Laurent Blanc, whose contract expires imminently, will hold talks about his future with Le Graet. Blanc has been linked with the vacant Tottenham job.