Portugal news
Ronaldo reveals penalty plan
Mixed emotions after semi-final loss on penalties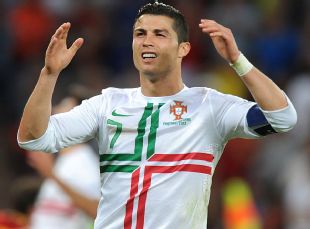 Cristiano Ronaldo expressed his disappointment at Portugal's Euro 2012 exit, but maintains he is proud of having reached the semi-final stage.
Portugal lost 4-2 on penalties to defending European champions Spain on Wednesday evening, with neither side able to break the deadlock during the 90 minutes or extra-time. Missed spot-kicks from Joao Moutinho and Bruno Alves saw Portugal bow out, leaving Ronaldo with mixed emotions.
"I feel sad," he told SIC. "Losing a semi-final in the penalty shoot-out is always painful, but it is a lottery, the luckier side wins.
"I think it was a good tournament on our part. We did very well. We are amongst the best four teams in Europe and the only reason we do not reach the final is because we were not lucky.
"We have to be proud of what we did, but we are a bit frustrated because we know we could reach the final.
"I gave my best, so I am satisfied with that I did. We deserved to be in the final, but we were not lucky."
Ronaldo did not take a penalty during the shootout, but the Real Madrid star confirmed after the match that he was due to step up to the spot next had Cesc Fabregas not sealed Spain's win.
"The penalties? I was going to take the next one," he said. "I was going to take the fifth penalty but we missed two.
"It was just a question of me speaking with the coach. He said to me, 'Do you want to take the fifth one?' and I said 'yes'. Sometimes I take the first, the second or the third. I agreed to take the fifth.
"I hope Spain win the tournament now because I have a lot friends there and I play there and it will be a tough final for them. It felt very normal playing against Real Madrid players. On the pitch we are not friends, but outside we are."