Spain news
Ramos: We were worthy winners
Spain defender certain that his side deserved progress to the final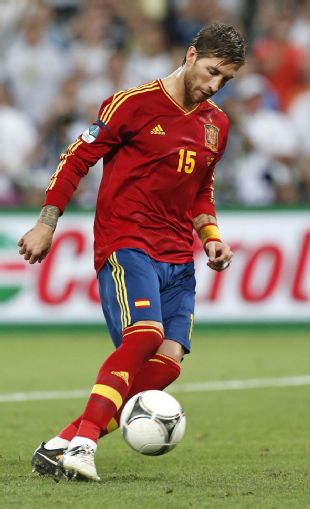 Spain defender Sergio Ramos insisted that his side were worthy winners as they beat Portugal 4-2 on penalties after a 0-0 draw in normal time.
World champions Spain have now reached a third consecutive major tournament final, which will be played in Kiev on Sunday, equalling the record set by West Germany in the early 1970s.
Ramos played a key role as he helped snuff out the threat of team-mate Cristiano Ronaldo, while he also stepped up to net a cheeky 'Panenka' penalty at a key time to hand the advantage to his side in the shootout.
"After a very long season with so much work, we deserved this," the Real Madrid defender said. "We are happy with the performance of the team. Individual success is not as important as the collective one, which is to reach the final. I am proud to be Spanish".
Midfielder Cesc Fabregas scored the winning penalty that takes Spain to meet either Germany or Italy and said he was delighted with the achievement of reaching the final.
"The team has worked so hard," he told Telecinco. "I had the feeling that there would be penalties tonight. I wanted to take one if we had this opportunity. To be honest, I am very excited. To reach another final in four years is amazing."
Spain coach Vicente del Bosque praised his side's fighting spirit and looked ahead to Sunday's final against either Germany or Italy, saying: "The players have played so many matches and they have to show their best in one more."

Del Bosque added: "It was a very even match but maybe we were a little better in extra time. They looked a bit tired, but there were few chances before that. It wasn't easy to get through their defence.

"They were superior when it came to defence and we didn't have that many opportunities so it was very balanced. In extra time it was slightly different and we had lots of luck with the penalties.

"I would like to express my congratulations to Portugal because they played a great tournament, but we were luckier this time."

Del Bosque is aware his side will need to play better in the final, although he is not worried about who they will face in the showpiece.

"Portugal were in control today and both teams only had a few chances to score, so we have to improve on this," he said.

"The other semi-final will be a great match and whoever our opponent is in the final, that will also be a great match. But we don't care about who our opponents are."