Netherlands news
Van Marwijk quits as Dutch coach
Netherlands coach leaves after three defeats at Euro 2012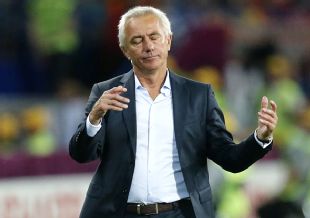 Netherlands coach Bert van Marwijk has resigned after his failure to lead the side out of Group B at Euro 2012.
- Hofman: The Holland deception
Van Marwijk took his side to the World Cup final two years ago and also oversaw an impressive qualifying campaign for Euro 2012 where they won nine out of their ten games and scored 37 goals. However, the Oranje failed to register a single point at the final tournament as they finished bottom of their group to Denmark, Portugal and Germany.
After talks described as "open, honest and constructive," a statement on the Dutch FA (KNVB) website read: "The KNVB and Bert van Marwijk on Wednesday decided to terminate the contract of the coach with immediate effect. The agreement went officially to the European Championships of 2016."
"I have severe doubts, but decided to take this step, "said Van Marwijk himself, while director of football Bert van Oostveen added: "The KNVB are very thankful to Van Marwijk. He did extraordinary work in making a World Cup final and achieving first place in the FIFA rankings. I personally look back with very fond memories on our cooperation. Of course it is sad to have to say goodbye now, but we have to be realistic."
Van Marwijk, who has previously held the reins at Feyenoord and Borussia Dortmund, took charge of the national team in 2008.
The KNVB will now begin the search for his successor, with Netherlands aiming to have a new coach in place before their friendly against Belgium on August 15 and the start of their 2014 World Cup qualifying campaign.