England news
Hodgson hits back at Capello
Italian suggested Rooney understands only Scottish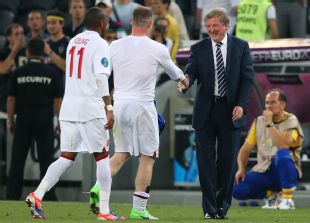 England manager Roy Hodgson has responded to former national team coach Fabio Capello's assertion that Wayne Rooney only performs well for Manchester United, stating the player's "desire to do well was enormous" during Euro 2012.
Despite scoring the goal which clinched England a 1-0 victory in their final group game against Ukraine after missing the two opening matches of the tournament through suspension, Rooney came in for criticism for his performances against Oleg Blokhin's team and Italy - his only two games played.
Hodgson himself admitted that England had perhaps "asked too much" of the player in terms of the impact he could have made at the tournament, but issued a stout defence when reacting to Capello's tongue-in-cheek comment that Rooney "only understands Scottish ... because he only plays well in Manchester, where Sir Alex Ferguson speaks Scottish".
Hodgson told TalkSPORT: "Capello is entitled to his opinions, I suppose. I don't know what relationship he would have had with Wayne but I always think it's a bit cheap to kid on a player who was so anxious to do well.
"His attitude was magnificent. He was putting in extra work in training because he was concerned he was behind the others having missed the first two games through suspension.
"He was trying to do extra work and we were trying to put the brakes on. His desire to do well was enormous."
Hodgson added: "In the final game [against Italy] he, along with one or two other players, didn't play to the level he can but that's what football is about. If every player was a robot and played at the same level in every game then football would be a very simple game and we wouldn't need coaches."