Portugal news
Eusebio making recovery
Legendary forward "slowly regaining health"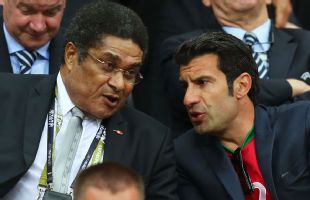 Former Portugal striker Eusebio is due to be released from hospital in Poland later this week.
Eusebio was present to watch Portugal's 1-0 victory over Czech Republic on Thursday, but he was admitted to a hospital in Poznan on Sunday after he complained he was feeling unwell.
However, the 70-year-old former Benfica star is now making a recovery and is expected to be able to leave in the near future.
"The patient's status, from the cardiological point of view, is good and he's slowly regaining health but it's not strong enough to let him leave today," spokesman Andrzej Rusek told local agency PAP.
Eusebio underwent a heart operation in Portugal five years ago to prevent a possible stroke, while he was treated for bronchial pneumonia last December.