UEFA news
UEFA begins action over fan racism
Governing body launches proceedings against Spain and Russia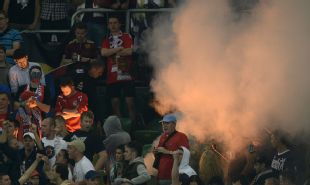 UEFA has begun disciplinary proceedings against the Spanish football federation and the Russian football union over the behaviour of supporters during group matches.
The European governing body said the cases related to racist chanting and racist behaviour during Spain's game against Italy and Russia's match with Czech Republic.
A UEFA statement said: "UEFA has opened disciplinary proceedings against the Royal Spanish Football Federation (RFEF) for the improper conduct of their supporters (racist behaviour, racist chanting) at the Group C match against Italy in Gdansk on Sunday 10 June.
"Disciplinary proceedings have also been opened against the Russian Football Union (RFS) for the improper conduct of their supporters (racist behaviour, racist chanting) at the Group A match against the Czech Republic in Wroclaw on Friday 8 June."
The cases will be dealt with on Thursday, UEFA said. The news comes three days after UEFA fined the RFS €35,000 after Russia fans set off and threw fireworks and displayed "illicit banners" during the Group A game against Greece in Warsaw last week.

Russia went out of the tournament after losing the game 1-0, and all their games in Poland and Ukraine were marred by the throwing of fireworks and the displaying of "illicit banners," UEFA said.
Last Tuesday, the RFS appealed against punishments imposed in the aftermath of their opening group game against Czech Republic in Wroclaw.
It was hit with a suspended six-point deduction for the Euro 2016 campaign, as well as a €120,000 fine, after UEFA took action against "the violent, offensive and unsafe conduct" of supporters at the June 8 match.
The RFS was fined €30,000 after action was brought over fireworks and banners at Russia's second game, against Poland, and UEFA said it had launched a separate investigation into monkey chants towards Czech defender Theodor Gebre Selassie.
Observers at the game between Spain and Italy said they had heard monkey chants being directed at the Italy forward Mario Balotelli.
Meanwhile, UEFA said it had fined the Croatian and Portuguese football federations for the improper conduct of supporters.
The Croatian federation – fined €80,000 last week after fans were found guilty of racially abusing Balotelli – has been fined a further €30,000 for incidents including the display of racist banners during Croatia's match with Spain.
Observers said Balotelli was subjected to monkey chants from between 300 and 500 Croatia supporters. There were also reports that a banana was thrown onto the pitch.
The Portuguese federation was fined €7,000 for an attempted pitch invasion by a fan during the quarter-final against Czech Republic.
A UEFA statement said: "The sanction [against Croatia] has been imposed for the setting off and throwing of fireworks and the improper conduct of supporters (display of inappropriate and racist banners) at the Group C fixture against Spain in Gdansk."