France news
Unrest cost France, says Sagna
Defender says Laurent Blanc's side should have gone further at Euros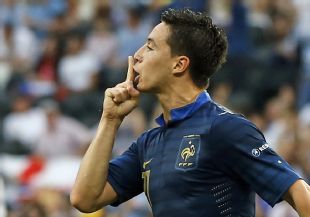 Squad unrest and infighting cost France their chance of glory at Euro 2012, defender Bacary Sagna has said.
Sagna, who did not travel to the tournament after breaking his leg while playing for Arsenal in May, said he believed Laurent Blanc's side - who went out of the tournament in the quarter-finals – could and should have gone further.
The French produced a meek performance in losing 2-0 to Spain in the last eight, and Sagna said he felt the "regrettable" infighting that soured their tournament played a huge role in the disappointing exit.
And former coach Raymond Domenech - in charge for the shambolic 2010 World Cup campaign, also marred by infighting - told Ouest-France that Euro 2012 "showed the full extent of our weaknesses."
He said: "A major tournament reveals the strength of a group, a generation. The most glaring [weakness is] their inability to see anything other than their navel."
France had gone into Euro 2012 on the back of an impressive unbeaten run, but tensions surfaced after a 2-0 defeat to Sweden in their final group game - when a row broke out in the dressing room and Hatem Ben Arfa was reported to have clashed with Blanc - while Samir Nasri rowed with a journalist in the aftermath of the Spain match.
Reports suggest the French football association will meet to consider the imposition of punishments, with L'Equipe suggesting Nasri could face a lengthy ban.
"It's a shame. We had the potential to go further. People would take me for a madman for saying that, but I saw a team that could go to the final," Sagna told L'Equipe. "I had faith in them.
"I was especially annoyed to hear the stories going around. That's regrettable. In the end, it gives a bad image of us, the team. It's a waste of a competition. Everything was avoidable. It's a shame that this never leaves the team alone."
Sagna said Nasri, a former team-mate a Arsenal, "speaks his mind" when something "does not please him," adding: "He can have a violent reaction, but you have to share your responsibilities.
"When someone attacks the press, it will not go away. With the excitement of the game and everything that was written about him, it was perhaps not the right time to respond. He should have kept his cool but it weighed on him.
"The Euros had not even started and the press had already criticised him. Everyone is human."
Sagna said he believed Blanc should stay on as the national coach, insisting: "Everyone is in agreement when they say that he did a good job."
In 2010, players refused to train after Domenech expelled Nicolas Anlka from the squad, and he said a lack of leadership had again proved costly two years later.
"Patrice Evra remained on the bench. Florent Malouda, spokesman for the team, finished the Euros without further impact," he said. "There were those that were expected [to perform]. They disappointed, and others had no reaction, which is equally inexcusable.''