Germany news
Klose struggling with bit-part role
Germany striker eager to retain place for Italy match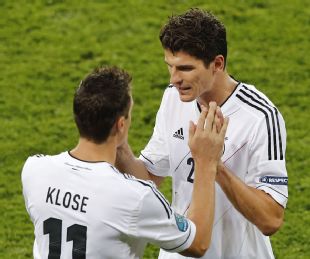 Germany striker Miroslav Klose has said he has found it difficult to accept his role as a substitute at Euro 2012 but insists he will not put his ego before the team.
Klose, 34, has played a part in each of Germany's four games at the tournament but was named on the bench for the three group matches. He finally got off the mark for the tournament when starting the 4-2 victory over Greece in the quarter-finals, but he has acknowledged that he is struggling to adapt to his new role.
"I don't really feel like a Stammspieler [a regular player or automatic starter]," he told kicker. "I'm not a man for the second string."
Joachim Low may restore Mario Gomez to the starting line-up for the upcoming semi-final with Italy but Klose stressed that, whatever the decision, he was not looking to cause any problems.
"The coach and I have had several discussions," he said. "We've openly exchanged our views. I will never put my ego over the team. I never have and never will. Ultimately, the coach has a choice between two top strikers. That's a gift for him and for the team."
Mesut Ozil, meanwhile, warned Italy that they will have a "hard time" against the Germans.
"The other nations have great respect for us," Ozil said. "We have already shown that we can beat anyone. Our target is to become champions of Europe, and I'm sure we can do it."
Ozil said Italy, who beat England on penalties in Sunday's quarter-final, were deserving semi-finalists, though he felt the Three Lions had progressed well since their 4-1 thrashing to the Germans at the 2010 World Cup.
"I think they've played a very good tournament," he said. "They were slightly inferior against Italy and I think that was visible during the game, but as a team they definitely have improved and have developed further."