England news
Hart optimistic for future
Keeper sees positive signs for coming years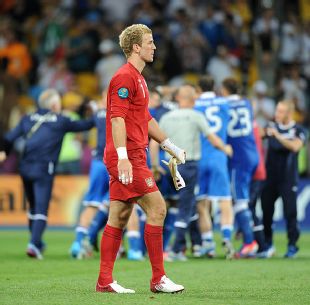 England goalkeeper Joe Hart believes that despite the country's exit from Euro 2012, they have laid the foundations for a bright future.
Hart, 25, could do little to prevent England exiting the tournament to Italy at the quarter-final stage, but felt the team had the quality and desire to go further in the competition.
England bowed out on penalty kicks to the Italians, after a tense 90 minutes saw the scores tied at 0-0. The match was the sixth time in the last 22 years that the English side have bowed out of a major tournament on penalties.
The Manchester City keeper said: "We've gone out of a tournament that we've laid the foundations for really well, played with everything we've got and unfortunately we weren't good enough tonight, losing on penalties. I thought it was going to be our night because of the side we had, the heart we had, the quality we had, but unfortunately it wasn't to be, we didn't do well in the shoot-out, myself included.
"I'd like to be optimistic now but that's not the feeling in my heart at the moment. I'm an emotional guy and I put everything I had into these past couple of weeks. I'm gutted for the people who paid money to come out here to support us and see us and for the people back home."
Looking to the future, though, Hart was able to find some cause for positivity, believing that the team spirit they have formed, as well as the players to return, mean that England have plenty of reasons to be hopeful.
Hart added: "Right now, not well. We'll have to wait and see in a couple of days. If this group of players continues to show the same degree of determination and the will to be a team, and to work hard as a team, we've got quality players to come into our squad who will obviously to add to the competition...I'm convinced it won't be that long before we beat a top nation in a competition.
"We had our chance today and we came close to taking it but not quite, but I think we've just got to keep building on what we've done in this tournament. We've got to make certain the good things that we've done remain and we've got to keep working on aspects of our play where we could be better."