England 0-0 Italy
Prandelli delighted to win 'lottery'
Italy coach starts preparations for date with Germany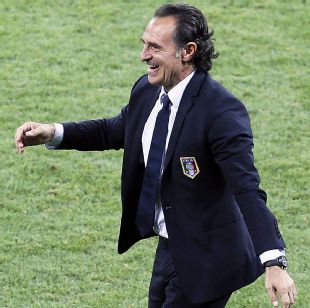 Italy coach Cesare Prandelli believes his side deserved to beat England in Sunday night's final Euro 2012 quarter-final but that they also needed a bit of luck to win on penalties.
Prandelli reserved special praise for Andrea Pirlo for his performance in the 0-0 draw, with the playmaker in imperious form throughout the match before coolly chipping a spot-kick down the centre in the shootout.
It means Italy will now take on Germany on Thursday for a place in the final against Portugal or Spain, while England will be on the plane home.
"I wasn't surprised; I knew we could control the game,'' Prandelli said. "My worry was that we were allowing England too much space on the break - we could have been a bit cleverer in our build-up play.
"We tried to play football. We tried to draw England out, we tried to hit them quickly. I think if we'd scored in the 90 minutes it would have been an even better game.
"Penalties are a lottery but I thought we deserved victory in the end. When [Riccardo] Montolivo missed his penalty I was sad as he was one of the best players. I was watching with my arm around my son and I told him he was lucky he didn't have to buy a ticket.
"When Andrea Pirlo stepped up I was very calm - he's a star and knew what he needed to do; and he did it. Around 80% of penalty shoot-outs go down to luck. Some players are used to this kind of pressure, some are just calm in these situations - but mainly it's down to good fortune.
"We are delighted but we have to get ready for Germany now. They have had two more days' rest [but] if we have the same approach, the same desire, I think we can compete.
"Germany and Spain are favourites here. We'll need everyone fit and fresh; we're going to go for it. They're always attacking games against Germany. Germany are a great side - they made changes against Greece and it made no difference.
"The game here hasn't long ended and we want to get our players fit - we just want to go home and get to bed, to be honest."
Montolivo, who was the first player to miss from the spot when he fired wide of the left-hand post, was grateful to keeper Gianluigi Buffon, who saved Ashley Cole's penalty after Ashley Young had hit the crossbar.
He: "It was a great relief, especially for me. I felt terrible after missing my penalty, it was really a tough moment but fortunately it ended well - we are lucky to have a goalkeeper like Buffon.
"However, the victory was fully deserved, we attacked for most of the game and created many chances even if we were not able to convert them. Losing on penalties after this performance would have been cruel.
"I think we played well in all of our games so far in the tournament. Now we will face Germany, probably the best team with Spain, but we will be ready to challenge them. We don't fear anybody, especially after a performance like this."
Pirlo could not disguise his happiness: "I'm very happy to get the man-of-the-match award, but the most important thing is the side have gone through to the semi-finals. We deserved to do so. Now we have a semi against Germany to come, and we're all hopeful of getting through right to the end of the tournament."