France news
Diarra blames France tactics
Midfielder says France got balance wrong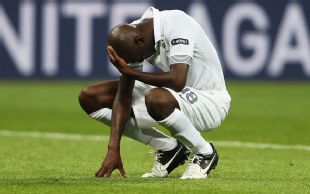 Midfielder Alou Diarra believes France got their tactics wrong against Spain in the Euro 2012 quarter-final, with his side unable to match the world champions throughout.
- Alvarez: A matter of respect
Diarra, 30, was omitted from the Les Bleus line-up for the encounter, but insists his side did not strike the right balance between attack and defence in their 2-0 defeat.
Head coach Laurent Blanc faced much criticism in the French media post-match for a perceived lack of ambition in his set-up.
The Marsielle star said: "Well, we should obviously consider who were we playing against, a team that is very good at attacking so we needed to be stronger at the back but without forgetting that we needed to attack as well. We needed to find that balance and we didn't do it in the end.
"It's disappointing to be out of the Euros, we played against a team which was better than us, individually and collectively. It's still a shame because I feel that in the second half there was still a lot to play for and to pose them problems but that's how it goes sometimes."
Without looking to shift the blame solely onto Blanc, Diarra accepted that the French side were not good enough in the knockout clash, with poor passing in the final third costing France dearly.
"Spain were favourites before the match that's clear, now, analysing the match there were some moments in the game in which we could have been better, but we lacked sharpness in that last pass, in that last movement and those little details make all the difference at the top level," Diarra added.
"This is a very young team and I'm sure we've learned a lot, we are looking forward now for the World Cup qualifiers."