Ireland news
Keane pays tribute to tragic fan
Ireland captain holds shirt aloft in memory of drowned supporter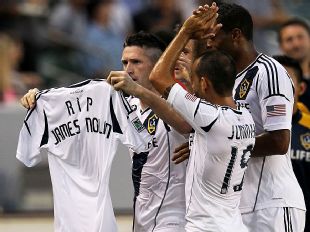 Robbie Keane dedicated his goal in LA Galaxy's victory over Vancouver Whitecaps to Ireland supporter James Nolan, who drowned in Poland last week while following his team at Euro 2012.

Nolan, from County Wicklow, went missing last Sunday after falling into the river Brda in Bydgoszcz. His body was recovered three days later.

Tributes have poured in for the 21-year-old, and Ireland captain Keane held aloft a shirt with 'RIP James Nolan' on the back after scoring on Saturday night.

"It was a young Irish fan who went to Poland, 21 years of age, and unfortunately drowned," Keane said after the game. "Obviously, the whole country was sad and I called his father today to send my condolences and to say that my thoughts were with him and the family.

"It was just a gesture because the Irish people are very close and they stick with each other through good times and bad times. He was a big, big soccer fan and it was a shame, so it was just a show of respect really."

Irish Football Association chief John Delaney has promised the organisation will also arrange a tribute for Nolan's family, saying: "We hope to do something very special for James' family but this would only be with their consent.

"I can't believe this has happened to a young man with a very bright future who was on the trip of a lifetime. I'm going to the funeral because he was in Poland supporting his heroes and we have to be there to support his family.

"Our thoughts and prayers are with James and his family at this most difficult time for them."