Italy news
Balotelli: I have nothing to prove
Italy striker says he is more man than Peter Pan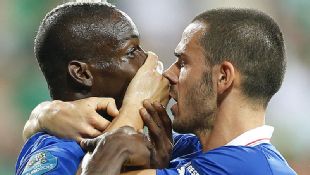 Italy striker Mario Balotelli insists that he doesn't have to prove anything ahead of the quarter-final against England on Sunday.
- Bandini: Pantomime villains take centre stage
Balotelli, 21, rarely answers questions at press conferences, but was centre stage on Saturday and responded to suggestions from Manchester City team-mate James Milner that there are two Balotellis – one who can win a game and the other who could get sent off at any minute – by saying: "He's fortunate that he knows two of me!".
The Italian added: "Will I make you angry or entertained? I guess it depends. Like my team-mates, I intend to give my all in this game, then I can't control if you get angry or entertained…"
The striker opened his account at Euro 2012 with a sensational volley against Ireland, but did not celebrate and was asked about his reaction.
"Mario, the person, doesn't have to prove anything to the English, Italians or anyone else. The goal was important, above all as I wanted it and had not been able to find it in previous matches," he said.
"I don't think I was blocked in any way, it was just that I wasn't finding the back of the net. Would I celebrate if I scored against England? First I'll score, then we'll see."
Balotelli will be coming up against some of his Man City team-mates who know his strengths and weaknesses, but the situation does not hold any fears for him.
"I hope it's going to be a good match and I think it's going to be fun playing against my teammates. They know me and I know them. What I expect is to win, because I always want to win.
"My friends are all those who play with me, like Milner, Hart and Barry. The one I fear the most… nobody. I didn't talk with my teammates or say anything about England."
Balotelli was also asked whether he is still a Peter Pan-like figure or, as Daniele De Rossi said, becoming a man.
"These are two metaphors for Mario as a person, not as a player. I think I'm a man, but then I don't even need to say it. Peter Pan is funny and I guess I can be, as in some of my behaviour I'm quite free, but I certainly feel more of a man than a Peter Pan."
The former Inter star was criticised in the first two group games, but concluded that it was just part of being a player.
"Criticism follows me around everywhere. It's normal that in 50-60-90 minutes you will make mistakes, so criticism helps you to improve," he said. "The shirt of the Nazionale has always moved me, ever since I was a kid, and that's normal. In the first games I was excited and it was my first Euros, but I was confident and the only setback was that I didn't score.
"I was not angry, nor did I have problems within the squad or in my life. Some of your colleagues spoke rubbish about me, but I was fine and the only problem was not scoring a goal."