Italy news
Buffon wants to restore pride
Italy keeper expects tight game against England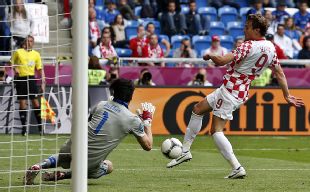 Gianluigi Buffon is looking for Italy to restore pride when they take on England in the quarter-finals of Euro 2012, but admits the prospect of a penalty shootout fills him with dread.
Italy have fallen from the highs of their 2006 World Cup success and entered Euro 2012 on the back of a match-fixing scandal that is dogging their domestic game.
Little was expected of Cesare Prandelli's side, but they made it through their group and will face England for a place in the semi-finals. Buffon feels there is not much between two sides who he feels are on retrieval missions.
"I think it will be a tight and even game," Buffon said. "No team is a clear favourite as both teams are trying to win back some of the prestige that we have lost in the last few years."
The victor will face Germany in the last four and Buffon claims England and Italy will have to up their play if they are to progress to the final and challenge for the title.
"Spain are two steps ahead of everyone, then Germany are a step ahead of the rest," the keeper said. "We are not the strongest team, that is reality, we know it. This does not mean that if we had to play against Germany or Spain that we would not have a chance."
Buffon has a mixed record in shootouts, but had one of his finest moments when helping the Azzurri beat France on penalties in the 2006 World Cup final. Despite this, the prospect of penalties makes him wince.
"I have faced penalties three times, won twice and lost once," he said. "Definitely for all of us, for our hearts, it would be better if we finished the game before penalties. But if we have to take them we will."