France news
Lloris: Unite to beat Spain
France keeper tells team-mates to display 'effort, generosity and togetherness'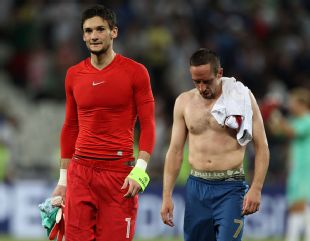 France captain Hugo Lloris has called on the players to unite if they are to have a chance of beating Spain and getting through to the last four.
Lloris urged his team-mates to display "generosity and togetherness" after a furious dressing room row erupted following their poor performance in the final group game defeat to Sweden. The 2-0 loss cost Laurent Blanc's side top spot in Group D - clearing the way for England to finish first - and led to angry exchanges.
The ill feeling did not immediately blow over, and Blanc admitted that easing the tension had hampered French preparations for the clash against the defending champions.
Lloris said it was important that the players stayed united against Vicente del Bosque's side and insisted they could win if they did. "We know that we will need to defend a lot, even though we will try to use our quality. Spain will probably have more possession than us," he said.
"We are all aware that this match will demand effort, energy, generosity and togetherness. Everyone will need to serve the team's interests. Now we might actually beat them, we all believe we can."
He said the France squad "has a lot of character" and that it was "normal" for players to react angrily to a defeat. But he added: "How we have moved on since then has been positive.
"Each player reacted in their own way after the Sweden game. Since Wednesday, we've all been focused on our recovery work and preparation for this match against Spain. We will give 100% to take our chance. We must get out of the game feeling like we have given everything."
Blanc also stressed that France had put the row behind them, saying: "There is no conflict." He said everyone in the camp was united in a common goal.
"There were words exchanged after the Sweden game, and some players were very angry. That is true," he added.
"We took a bit of time to calm everyone down, and coming back to Donetsk from Kiev to our base camp allowed us to do that and be a bit more at peace. But since Wednesday everything has been about working towards the Spain game."