France news
Blanc admits row disrupted plans
France boss claims mood in camp is now positive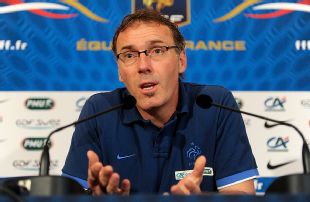 Laurent Blanc has admitted France's preparations for their Euro 2012 quarter-final with Spain have been hampered by the row that erupted following their loss to Sweden.
France passed up top spot in Group D on the back of their surprise loss to Sweden and words were exchanged following the game. The issue did not immediately blow over and easing the tension in the camp took time out of their planning for Spain.
"There were words exchanged after the game and some players were very angry," Blanc said. "That is true.
"We took a bit of time to calm everyone down and coming back to Donetsk from Kiev to our base camp allowed us to do that and be a bit more at peace.
"It did delay us in terms of when we could start preparing for the game with Spain but you have priorities that have to be dealt with.
"But since Wednesday everything has been about working towards the Spain game."
Stressing that the players are now united behind a common goal, Blanc said: "There is no conflict."