Germany 4-2 Greece
Low: Changes gave us new life
Germany coach felt starting trio invigorated his side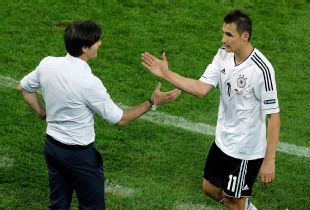 Germany coach Joachim Low insisted his hat-trick of changes offered his side a fresh impetus as they breezed past Greece 4-2 to book a Euro 2012 semi-final with Italy or England.
Low brought in Andre Schurrle, Miroslav Klose and Marco Reus and was rewarded with an emphatic win in which two of the three found the net.
Captain Philipp Lahm put Germany in front before Georgios Samaras claimed a shock equaliser. But Greece's joy was short lived as Sami Khedira restored Germany's lead.
Klose then grabbed his 64th goal for his country before Reus chalked up number four moments later. Dimitris Salpingidis converted a late penalty but it was no more than a consolation.
"Reus, Miro and Schurrle have done very well," Low said. "Today was the day of change. I wanted to breathe new life into the campaign.
"It is an achievement of class by this team to have reached a semi-final for the fourth consecutive time. I think, we all can be proud of this team.
"This team [Greece] again had one chance and scored two goals. We missed out on scoring in the beginning. But we kept going and scored lately. It was important that we showed a reaction after 1-1.
"Khedira is having an unbelievably good run. He trains well, he always wants to have the ball. His team-mates feel that and they trust him. Ozil played with absoute class. He made very good runs and he managed to give the right impulses for the team."
But Lahm, whose fierce strike broke the deadlock, was angered by several sloppy moments that offered Greece moments of hope.
"It is an achievement of class by this team to have reached a semi-final for the fourth consecutive time"

Joachim Low
"We made life so difficult for ourselves," the Germany captain said. "We had so many good chances in the first quarter, then we scored and gave it away again. This is something we have to stop in the semi-final."
Khedira was one of Germany's stand out performers, alongside Mesut Ozil, and said he and his team-mates would prepare for a tough semi-final whether they play Italy or England.
"We are very happy about our win, but after half-time we made life very difficult for ourselves," Khedira said. "After the equaliser we kept our pace high and deserved this win, but it could have been easier.
"We had many chances and we played a very good match. Next round, against England or Italy, won't be easy, but if we are able to fulfil our potential, we will be very hard to beat."
Greece coach Fernando Santos lamented his side's inability to keep Germany out moments after they had equalised. "I said if we could score once it would change it completely and we could get something out of it," he said.
"But the bad thing was that we conceded the second really soon and that clipped our wings, but we fought to the last moment."
Defender Sokratis Papastathopoulos added: "We scored twice. We did what we could. Maybe we could have been a bit more careful but we fought hard, we fought for the whole of Greece.
"We made it to the last eight and this is very important. The Netherlands didn't make it and we are talking about a very big country in football terms."
Salpingidis, who scored his second goal of the tournament, said: "When we conceded a second goal we had to open up and that cost us. I hope the Greeks got some encouragement from watching us fighting."