England
Hodgson calm on Capello talk
England boss positive ahead of Italy game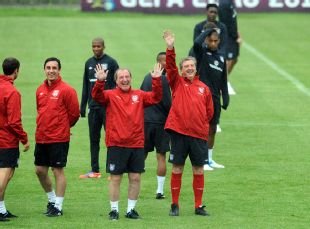 England boss Roy Hodgson has spoken of his determination to ensure he is not distracted by talk of comparisons between himself and his predecessor Fabio Capello.
Hodgson's stock is high after guiding England into the quarter-finals of Euro 2012, despite only taking charge of the team in May. Hodgson was parachuted in following the departure of Capello earlier in the year. Having been in charge for such a short period, there have been claims that he is riding on the back of the Capello regime.
The 64-year-old is well aware of the talk, but it is not something that is causing him any concern as he prepares his side for a last-eight clash with Italy.
"I am sure people will compare me with Capello because this is the team he qualified for this tournament," Hodgson said. "I am sure he must still be disappointed not to be here coaching this team himself. But it will only become a hindrance if we allow it.
"Obviously there will be lots of things written that are not 100% truthful or that I wouldn't want to read or hear, but that's life. That won't stop me from preparing the team.
"There are no words that can affect my job with the team."
Hodgson has insisted he will have no need to seek advice from outside his camp on opponents Italy.
"We have more than enough information on teams and more than enough research not to be turning to anybody for advice," he said. "We will use all the evidence to make our own minds up as to how we go about the job."