England v Italy
Bonucci praises England's defence
Juve defender believes Italy strikers will have to work hard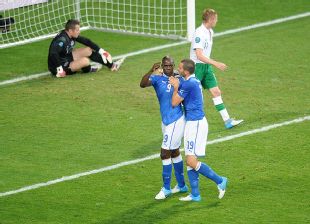 Leonardo Bonucci believes England are now defending like Italy as the two sides prepare to meet in the quarter-finals of Euro 2012 on Sunday.
Bonucci, who featured in all of Italy's group games, knows that the Azzurri face a tough task to break down an England side which concentrates on hard work and determination rather than style.
The Juventus defender said: "They have an Italian style, tough to score against and they hit with the counter attack using their extremely talented players. This is an important fact, we have to think about it, and work out how to prevent them from causing us trouble.
"They've improved their defence a lot over recent years and have great champions like John Terry, Ashley Cole, Glen Johnson and Joleon Lescott - all world class players. They will play their game for sure, let's just hope our forwards give them a hard time."
Bonucci was the first player across to Mario Balotelli after the Manchester City player scored Italy's second goal against Ireland, eager to prevent the striker from getting into trouble with the coaching staff over his celebration. Bonucci covered the striker's mouth and stopped him from making gestures to the bench.
"I know him better than anyone else in the team," he added. "We used to play together as juniors at Inter Milan. He was 17 and I was already scolding him for things he was doing - this is Mario. He's an instinctive person, but he's a good boy. That's just how he is, and that's why I took care of him during the celebration against Ireland.
"Unfortunately, sometimes he does crazy things. He's spontaneous but he's a good kid."