Spain v France
Jesus Navas: We must remain calm
Spain winger confident of beating France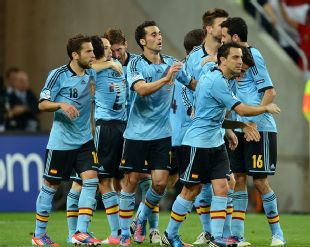 Spain midfielder Jesus Navas insists that his side can repeat their successes of recent years if they simply stay calm and focus on the task at hand.
Spain flirted with elimination in their final Group C outing against Croatia but a late Navas goal saw them finish top of the group and set up a quarter-final meeting with France on Saturday. Many Spanish fans are concerned that fatigue and the pressure of bidding to become the first team to win three consecutive major international tournaments will be too much. But Navas preached serenity ahead of the match.
"I think it was due to the tension around the result of that game," the Sevilla winger said. "We were drawing 0-0 and the result continued to stay like that, so that goal then made us calmer. There was a lot of attention on that match, which is what our team deserves, and in the end it all went well.
"We managed to come top of our group and that was very important in order to gain confidence. What we need to do is just stay calm, because now the really important matches start. We have to focus fully on what's most important."
Spain have remained unbeaten in the knockout stages of major tournaments since France beat them 3-1 at the 2006 World Cup and Navas is certain that they have the experience to see themselves through.
"A couple of years have passed since then and we've grown in confidence due to what we've achieved and we're now very calm," he added. "We have faith in the things we do, and that's a big plus for us."
Speaking about the opposition, Navas revealed that he is well aware of the problems Laurent Blanc's side can pose.
"I think they have a strong team; I think they're a very compact team," he said. "Then they have important players in attack like [Karim] Benzema, [Franck] Ribery and [Samir] Nasri, all very dangerous in attack. I think that we need to be very focused."