Germany news
Reus wants games at Euro 2012
Midfielder wants Euros chance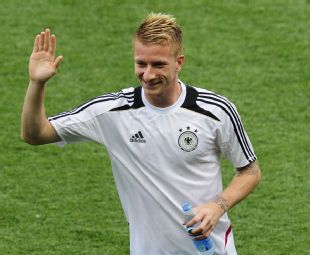 Borussia Monchengladbach midfielder Marco Reus has expressed his desire to make an impact at Euro 2012, having yet to appear for Germany.
Reus, 23, will make a high-profile switch to Bundesliga champions Borussia Dortmund this summer after the championship, following an 18-goal season in 2011-12.
"I have not yet had my chance, which is disappointing," he told Kicker. "But I have to accept the coach's decision. But this is easier said than done. It is very difficult to deal with it because I am not used to this feeling.
"In football, everything happens so fast. You just have to wait for your chance and make the most of it. I am 23, so I am not that young anymore. We have many young players in our team. I can play in all attacking positions. I am ready to play. I hope I will get my chance."
Germany will face Greece on Friday for a place in the semi-final of the European Championship with Reus set to take his place amongst the substitutes.