England news
Hart happy to take shoot-out penalty
'If penalties are required to go through, so be it' says England keeper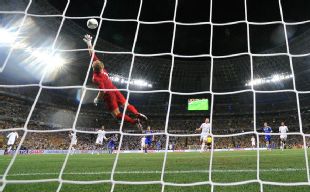 England goalkeeper Joe Hart has revealed that he is willing to take a penalty if the quarter-final against Italy goes down to a shoot-out.

Hart - who scored from the spot to help the England Under-21s reach the European Under-21 Championship final three years ago - revealed he had been practising penalties and would step up if called upon.

"If they let me, I'll put my name forward -100%," he said. "They are the kind of situations where you have your chance to do your thing for the team. Hopefully it won't come to that, but if penalties are required to go through, then so be it: that's the route we have got to take."
Hart revealed that he would be doing his homework on the Italian penalty takers, but said he believed no amount of research could prepare him for a shoot-out.

"Obviously I do my research, I know where all the Italian players have put their penalties, but anyone could do that just by clicking on YouTube," he said. "I watch [the footage] quite late on the day, just have a nose through it, but it is all in the moment for me."

Hart said it was a great achievement for England to reach the quarter-finals, but insisted it was only what the team had expected of themselves.

"Regardless of what some people thought, I think anyone who knew the players and knew our mentality and what we came to do... it is not a surprise, it is part of the plan," he said.

"We are winners. The whole point in coming here is to win games, to be successful for us and the country. If it weren't to go right, we would like to leave having given everything - as long as we know we have done everything in our power."