France news
Nasri: Spain will give us room to play
France midfielder does not believe Del Bosque's side are Euro 2012 favourites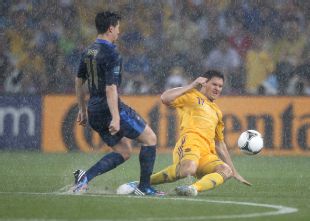 Samir Nasri believes France will get more room to play against Spain than they would have done against Italy and insisted: "We will try to cause an upset."
Nasri dismissed suggestions that facing Vicente del Bosque's defending champions was an impossible task, saying he did not even believe they were the favourites to win the tournament.
France went through to the quarter-finals despite suffering defeat - and putting in a disappointing performance - in their final Group D game against Sweden.
Goals from Zlatan Ibrahimovic, who struck in spectacular style, and Sebastian Larsson defeated Laurent Blanc's side, ending their 23-game unbeaten run.
However, Nasri said: "Spain and Italy are both hard to play against and, in my opinion, the Italians are harder to play against as they line up with five defenders and three defensive midfielders who push up.
"Spain like to play football, but France has always done well against the Spanish in a major tournament. We might get more room against the Spanish.
"Qualifying for the quarter-finals gives us confidence and we will try and cause an upset. I don't think Spain are favourites for the tournament - the Germans have impressed me the most."
He said the unbeaten run "had to end some time", adding that it was better to have lost it in a situation that saw them make progress despite being beaten.
And he urged fans to remain realistic about what France - in such chaos at the 2010 World Cup - had achieved, adding: "If people had said two years ago we would be in the quarter-finals of the European Championship, we would have signed up for that right away, so we can't complain."
His team-mate Yohan Cabaye, however, was more guarded about the prospect of facing the Spanish on Saturday, saying: "Spain are the best team in the world - we are going to have to play like it is the final.
"If we play like we did against Sweden we haven't got any chance of beating Spain. We know this."