England 1-0 Ukraine
Politician rages over 'fraud'
Anger in Ukraine over failure to award 'ghost goal'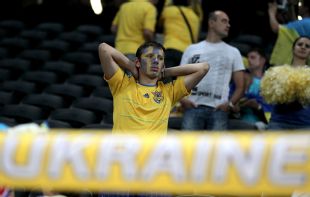 A Ukrainian politician has urged UEFA to annul England's 1-0 victory over the Euro 2012 co-hosts as he believes it was "unfair".
- Furmanov: Ukraine out but not down
England beat Ukraine in the teams' final game in Group D to finish top and condemn their opponents to an early exit, but the match was not without controversy.
Following Wayne Rooney's goal shortly after half-time, Ukraine believed they had equalised when Marko Devic's shot appeared to cross the line before John Terry could make the clearance. Artem Milevskiy had also seemingly been offside in the build-up to the goal, but the officials missed both incidents.
Yuri Karmazin, a member of Our Ukraine – People's Self-Defence Bloc, nonetheless believes there is justification for the match to be replayed.
"This was fraud on a European scale (carried out) under the English flag," he told parliament. "Annul yesterday's game urgently because it was unfair."
The country's Prime Minister, Mykola Azarov, took a more positive approach to the events in Donetsk.
"They tried to seize the victory until the last moment, but sport is sport and, like life, it has everything - luck, randomness, mistakes and unfairness," Arazov said. "One should not make a tragedy out of that."
Arazov was also pleased that Ukraine had proved successful hosts for the tournament.
"We have shown the whole world that we can solve the hardest tasks and radically modernise our infrastructure in very short time," he said. "Our country has beaten sceptics and enemies who wished the great sports holiday to fail in Ukraine."