Italy news
Prandelli makes midnight pilgrimage
Italy boss keeps promise to Camaldolese Priory monks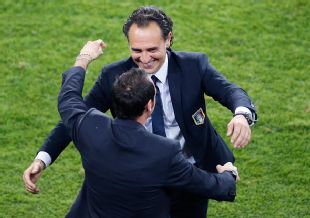 Italy coach Cesare Prandelli marked his side's passage to the quarter-finals of Euro 2012 with a 21 kilometre walk to a monastery in the middle of the night.

Prandelli promised the monks at the Camaldolese Priory during a pre-tournament visit that he would make the pilgrimage if the Azzurri qualified from the group stage and kept his word immediately after they had done so.

After beating Ireland 2-0 in Poznan on Monday night, Italy arrived back at their base in Wieliczka at around 03.00 local time, when Prandelli, his back room staff and Italian Football Federation (FIGC) vice-president Demetrio Albertini embarked on the trip.
The party were given a warm welcome following their three-and-a-half-hour walk by the Camaldolese monks, whose order originates from Camaldoli, a range of mountains in Italy.
A statement from the FIGC revealed the group "had to deal with the jokes of the players... who went off to bed" and returned to the team's Turowka hotel at 07.00, by car.
Italy meet Group D winners England in the last quarter-final in Kiev on Sunday.