Goal-line controversy
Blatter: Technology a necessity
FIFA boss renews calls for GLT following Ukraine match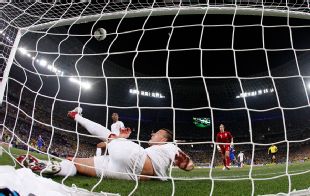 FIFA president Sepp Blatter claims goal-line technology is "no longer an alternative but a necessity" following Ukraine's complaints of being denied an equaliser against England on Tuesday night.
Needing a win, and trailing 1-0 with 30 minutes to go in the Group D clash, Marko Devic's shot was cleared from behind the line by England defender John Terry and officials failed to spot the potentially game-changing incident.
"There are five referees on the pitch and the ball is 50cm behind the goal-line. Why do we need five officials?" Ukraine manager Oleh Blokhin raged after the hosts crashed out of Euro 2012 following defeat in Donetsk.
However, TV replays later showed that Ukraine's Artem Milevskiy was offside during the build up to the 'goal' and play should have stopped before the Ukraine striker struck his shot.
Blatter became a convert to goal-line technology after Frank Lampard was denied a legitimate goal in England's 2010 World Cup defeat to Germany.
That failed to convince UEFA president Michel Platini - the favourite to succeed Blatter as the most powerful man in world football - who remained wedded to his belief additional assistant referees behind each goal was the best way forward - although they missed the call against England.
Blatter, who hopes to convince the game's rule-makers - the International Football Association Board - to give technology the green light, posted on Twitter: "After last night's match #GLT is no longer an alternative but a necessity."