Russia news
Russia appeal against punishment
Punishments given violent, offensive and unsafe conduct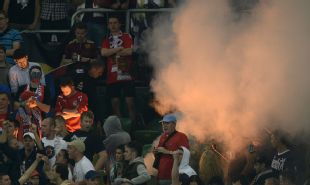 The Football Union of Russia has appealed against UEFA's punishment for the behaviour of their fans at Euro 2012.
Russia were last week hit with a suspended six-point deduction for their Euro 2016 campaign, as well as a €120,000 (£96,000) fine. However, UEFA confirmed the RFS have appealed against the verdict on Tuesday.
UEFA took action for 'the violent, offensive and unsafe conduct' of Russia's supporters during their opening Group A match against the Czech Republic on June 8 and opened disciplinary proceedings 24 hours after Russia's 4-1 win in Wroclaw.
Violence erupted at the game when a handful of stewards were attacked by a large group of fans in a walkway in the 40,000-capacity Municipal Stadium. Reports claimed four members of stadium staff were taken to hospital and released later that evening.
Footage released online the following morning showed one steward left in a heap on the ground after being set upon by several assailants, while another was kicked in the head while trying to evade a lone attacker.
Supporters in the stands also set off and threw fireworks, as well as displaying a nationalist 'Russian Empire' flag, something which has been associated with the far right.
The sanctions were a huge embarrassment for Russia, who are increasing pressure to deal with fan problems, having been named hosts for the 2018 World Cup.