Ireland news
Trapattoni is staying, says Keane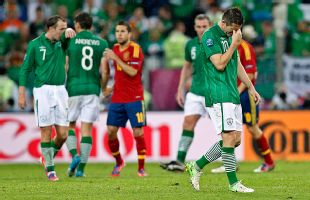 Ireland coach Giovanni Trapattoni will not be forced out despite his side's poor Euro 2012 performance, captain Robbie Keane has said.
Hopes were high when Trapattoni guided the Irish to the final stages of a major tournament for the first time in a decade - but an opening 3-1 defeat against Croatia, followed by a 4-0 defeat to Spain and a 2-0 loss to Italy, saw them heading home without a point to their name.
The defensive frailties and lack of attacking threat shown by Ireland led some pundits to question whether the 73-year-old coach was still the right man to take the national team forward.
But Trap has said he wants to stay and Keane, asked whether the coach could be forced out, simply said: "No chance."
Midfielder Keith Andrews, who was sent off in the closing stages of the Italy defeat, defended Trapattoni, saying: "Let's be frank: we haven't qualified for this tournament for 24 years.
"It is easy to sit there and criticise a man who got us the qualification. He's not really going to change something that's brought us a lot of success over the last four years, is he?
"We are not pleased with our individual performance, collective performance, and we've certainly come up against fantastic opposition."

Keane batted away questions about his own international future which, along with those of Shay Given, Damien Duff and Richard Dunne, is uncertain. Keane and Given are Ireland's two most capped players.
The LA Galaxy striker, capped 120 times, said it was "not the right time" to be discussing whether he would continue to play for his country, adding: "The whole squad has come off a tournament and we're all disappointed. I'm not even really thinking about it, to be honest with you."
Damien Duff, who wore the skipper's armband against Italy to mark his 100th cap, hinted that he could call time on his Ireland career, saying: "I've said I'll play until 100 for Ireland if they'd have me. Sometimes it doesn't work like that - so we'll see."
And goalkeeper Given said he would "sit down with my kids and my wife and my family when I get home and just see what the best plan of action is."
Dunne also indicated that he would make a decision in the near future. "It's very hard because we've been preparing for this and dreaming. You don't want to be thinking about the finish," he said.
"Now probably is the time for whoever has thought about it [retirement] to have a month away and make a decision in a month's time, maybe. You've just been hammered three times and you're probably just sick of football at the moment."
Andrews said he hoped all the players being linked with retirement would opt to prolong their international careers, saying: "The lads that are being talked about have been fantastic servants, absolute stalwarts of the team of the last 10 or 12 years.
"On a personal note, I've really enjoyed playing with them, so hopefully they don't go - but it's their decision.''