Germany news
Low wary of Greece threat
Germany coach says quarter-final opponents are "masters of efficiency"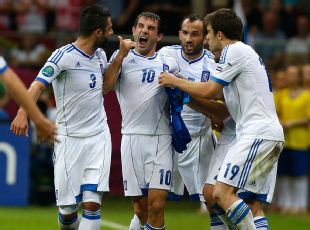 Germany coach Joachim Low believes his side's quarter-final test against Greece will be "like biting on a rock".
- Win for Panagoulias, not politics
The Germans, impressive at Euro 2012 so far, will take on Greece in Gdansk on Friday as they look to reach the last four of the competition.
Low's side will be strong favourites to dispose of the Greeks, but the Germany manager is wary of their opponents, who claimed European Championship glory in 2004.
He said: "The Greeks will be a great challenge for us. It will be like biting on a rock! I have never played a game against Greece before and no one thought they'd make it this far in the competition.
"Russia had been very strong in the first two games and no one believed they'd lose to the Greeks. Greece are the masters of efficiency. In this competition they've had maybe three or four chances and they have scored three goals.
"They can also defend really well and throw themselves into every challenge. They are very hard men. We know they will try to take the tempo out of the game, as Denmark did against us the other night.
"So we've got to be tighter in the midfield and keep our quick passing game going. Like Denmark, Greece will try to keep their men behind the ball and maybe hit us with a set-piece or on the counter-attack.
"Three or four years ago we wouldn't have won a game like we did against Denmark. But now we have really good technical players who can control the play and after 60 or 70 minutes take advantage of the opponents.
"These days we are much more mature in our play. So far we have done the job we came here to do and I'm very pleased to finish our group with maximum points. But we can still do a bit better and that's what we'll need to do in our next games."