Italy v Ireland
Marchisio confident of success
Italy need to win, but it still might not be enough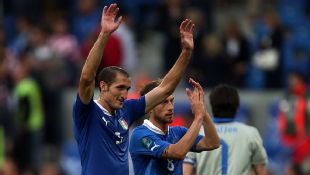 Italy midfielder Claudio Marchisio is confident that his side have what it takes to qualify for the knockout stages of Euro 2012 by beating Ireland.
Italy are third in Group C with two points from two games and a 2-2 draw between Spain and Croatia would send them out regardless of their result against the Irish. Still, Juventus midfielder Marchisio is hopeful they can fulfil their part of the bargain by winning their game in Poznan.
"Although we're third, we have a great chance of qualifying. We just need to worry about our own game and what we must do to beat Ireland," Marchisio told UEFA. "The squad is united. We've got a great group here, even if we didn't manage to win against Spain or Croatia. We'll try to get through the group by giving it everything we've got.
"It won't be an easy match, even if Ireland are out already, because they are a very gritty side. We played them last summer and it didn't go well.
"That was a friendly match and our approach will be different this time, as will the result I hope."