Netherlands news
Robben hints at Dutch unrest
Bayern star aludes to internal problems in squad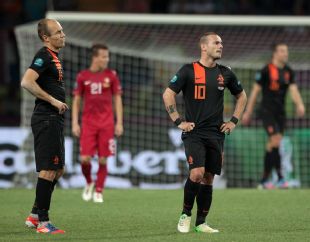 Arjen Robben has hinted towards tension in the dressing room after Netherlands were knocked out of Euro 2012 following their 2-1 defeat to Portugal.
Robben and his team-mates made the World Cup final in their last major tournament but endured a difficult campaign, failing to win a game in the group stages, scoring just two goals.
As is often the case, rumours of difficulties behind the scenes plagued their stay in Poland and Ukraine, and the Bayern Munich star has alluded to issues caused by the presence of so many big name players.
He told told Voetbal International: "Of course there were some internal issues but we will keep them indoors. But believe me we tried everything, it's just not worked.
"The hunger in the team is there but we failed together. And I mean the technical staff, the players, the whole team. This is the harsh reality of the sporting world. We must all, therefore, look in the mirror.''
Mark van Bommel, the son-in-law of Bert van Marwijk, was dropped for the 2-1 defeat to Portugal that sealed Netherlands' fate and he admitted there was a different feeling in the squad than at the 2014 World Cup.
The 35-year-old said: "I am captain and will always protect my players but the atmosphere was different than two years ago. Why that was I don't know, I can only speak for myself, not the other guys.''
Things had started positively for the Dutch, who needed to win by two clear goals and Germany to beat Denmark, as Rafael van der Vaart put them ahead with a fine curling strike.
But Portugal roared back at the Dutch, with Cristiano Ronaldo in inspired form. His two goals ended any slim hopes Netherlands had of progressing and allowed the recriminations to start flowing.
Van der Vaart said: "I knew it would be difficult. We had to score two goals. We started off really well and scored one goal, but we knew we had to score another one, so we got nervous.
"After our first goal, Portugal began to play very well, and we didn't. We all played badly; we all have to take a good, long look in the mirror. All we can say is that it's sad for our supporters.
"We lost all confidence after losing the game against Denmark, and so today against Portugal we knew it could go wrong, and so it did. We have to start all over again.''