Denmark 1-2 Germany
Olsen proud despite exit
Denmark coach feels team showed their worth despite Germany defeat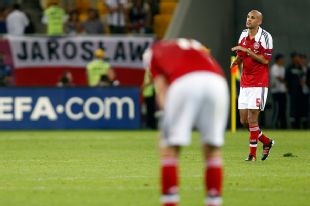 Denmark coach Morten Olsen said he was pleased with his players' efforts despite their Euro 2012 exit.
Having beaten Netherlands in their opener before succumbing to a late 3-2 defeat to Portugal, Denmark remained in contention for a place in the knockout rounds as they were holding Germany to a 1-1 draw until the 80th minute.
Lars Bender's strike ultimately gave Germany a 2-1 win that left Denmark in third place in Group B, but Olsen feels his team did well at the tournament.
"I'm not disappointed with the team," Olsen told Danish TV station DR. "Absolutely not. They have put in a fantastic effort, and there were times when we played good football. We were taking on the world elite and showed we could compete with them."
Germany dominated Sunday's match but, with Denmark showing great commitment in defence, Joachim Low's men struggled to create clear-cut opportunities.
"Other than at the start of the match, I think we stopped them creating big chances," Olsen said. "It was the same in the second half, too, when they were putting us under enormous pressure.
"With the match still at 1-1, we had a chance. I don't know whether it was fatigue or something, but we gave them that second goal as far as I'm concerned. We had the situation under control. We showed a lot of effort, though. We fought heroically again. Unfortunately, especially in the second half, we just couldn't keep them under control."
Olsen also explained why Low had the impression that his side was so negative.
"If you try to put them under pressure, then you can get punished quickly,'' he said. "One-one was a good result for us because then you just need a lucky punch maybe with a set-piece, but if you gamble too much, they can hit you quickly.
"We are disappointed not to have gone through, but this team has a future. Compliments to all of our players - they played a great tournament and it is only minor details which make a difference.''
One of those minor details was a penalty appeal when Nicklas Bendtner had his shirt tugged by Holger Badstuber inside the Germany penalty area, impeding him from doing more with a one-on-one situation with Germany goalkeeper Manuel Neuer.
That incident happened just minutes before Bender netted Germany's winner and it was a moment which could have decided the encounter and indeed the group in Denmark's favour.
"I think we should have had a penalty,'' said Olsen. "It is not permitted to pull your opponent's shirt in the box and that is what this extra referee is there for, but clearly he did not see it.''
Olsen was not making that his principle excuse for defeat and elimination, however.
"Maybe we lost it by not holding Portugal to a draw, but there are so many ifs and buts,'' he said. "When all is said and done, we have done very well at this tournament.''
Midfielder William Kvist was left frustrated with the goals Denmark conceded.

"It's a shame," he said. "They were two stupid goals - a throw-in and then two touches later it's in the net. And for the other goal... we know they are good at counter-attacking, and suddenly they've scored again."