Ireland news
Roy Keane again blasts flops
Former skipper hits out at poor performances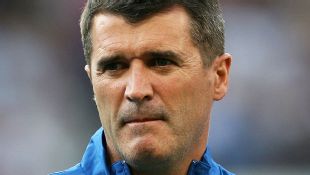 Roy Keane has reignited his war of words with Ireland coach Giovanni Trapattoni, saying the country should not be going to tournaments "shrugging our shoulders and having a sing-song".
Keane, the former Ireland captain, had criticised the players for praising the supporters' efforts in the loss to Spain rather than looking at their own mistakes. Trapattoni didn't take too kindly to those remarks, and Keane used his column in the Sun to comment further.
"You'll never beat the Irish?" he wrote. "It's time for that song to be put away because, at the moment, everyone is beating them. I'm sick of this 'win, lose, we're on the booze' mentality. It has to change.
"The likes of (Robbie) Keane, Shay Given, Richard Dunne, John O'Shea and Damien Duff are picked every game as they have a big reputation. A reputation for what? They hadn't qualified for anything in 10 years.
"They love having a dig back when I say something but I tell you now, I'll be ready if they do because players have to be accountable for how the team did. I'm trying to be constructive but the manager and players all have to be accountable. It's not good shrugging our shoulders and having a sing-song.
"People seem to have misunderstood me. I've no problems with the fans singing. It's great that they back the team during and before games - but should they really stay on long after the final whistle cheering?
"There's a danger that the players think that what has happened on the pitch is acceptable, when it's not.
"I can't think of one player who has had a good season at club level. A couple of years ago Kevin Doyle was linked with Arsenal. Now he's heading back to the Championship. Stephen Hunt has been relegated three times in five years.
"Their club form is poor and no player has come out of the two games with any credit. Not one. That's why Giovanni Trapattoni should make 11 changes against Italy tomorrow."