Ukraine v England
Rooney return doesn't bother Sheva
Ukraine talisman says Rooney could lack match sharpness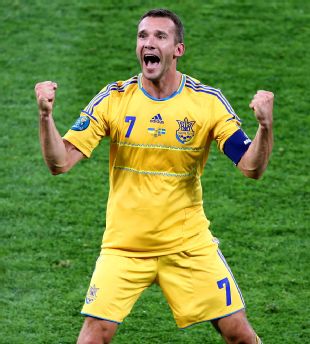 Ukraine captain Andriy Shevchenko has attempted to brush off questions about Wayne Rooney's return from suspension for the showdown with England on Tuesday.
Rooney served a two-match ban at the start of the tournament and is certain to be reinstated into the starting XI for the match against the co-hosts.
England need a point to book their place in the quarter-finals, but it's win or bust for Ukraine.
Rooney hasn't played since Manchester United's 1-0 win at Sunderland on the last day on the season, in which he scored his 27th Premier League goal to make it the most prolific campaign of his career.
"We will see what happens with Rooney. But this is a player who hasn't played for a month now," Sheva said. "I know he's a very good player and someone who can change the team, but we'll see what happens if he plays.
"But the whole England team is very good, not just Rooney. They are most dangerous from set-pieces - corners and free-kicks. We will have to watch that.
"We knew it was a very difficult game [on Friday] and the French played really well, especially in the second half. But we still have a chance. We know that if we can beat England we'll qualify for the knockout stage. [But] we'll have to play much better than we did against France if we want to beat England.
"They are definitely one of the most dangerous teams here. They had a good result against France and they beat Sweden, so they've had a great start. Home advantage helps us a lot. There's also a bit more pressure for us, but I hope the crowd will be nice to us and we can get a good result."
England midfielder Frank Lampard said of the Ukraine forward: "Sheva showed with those two goals [against Sweden] we can't afford to write him off as too old and too slow. Great goalscorers like him always know when to make their move so they can be in the right place at the right time.
"I just know he'd love to score against England and he'll be desperate to score against John Terry. They are mates but Sheva will ignore that and go all guns blazing to get the better of JT. Just as I'm sure JT will be desperate to keep him out at all costs. They'll both be keen to get one over on each other and they'll both relish the challenge. That's what makes them the top players they are.
"Sheva is up there as one of the world's greatest strikers for a generation. He's a legend, a true superstar. But I honestly believe Wayne Rooney's time is coming and he will be up there too in the years to come. They may be totally different as strikers but the one similarity is that they are both great players. Sheva is the complete goal machine. He lives to score goals. He mainly plays right up there on the shoulder of the defender and is always looking to break into the box.
"His movement and awareness in the area are top drawer and he's already shown at the Euros what a deadly finisher he still is. Wayne has a different approach to the game. He has ability in bundles and he influences the game in a lot of different areas. He can drop deep, break wide and he can cut inside. He is a real asset in helping keep possession. And now he is coming back for us at the perfect time.
"He is such an infectious player. His passion for the game, his energy, his drive in the dressing room and out on the pitch. It is just not the same when he is not there. You need players like that, who have that desire, who can make a difference, who can score or create a goal from out of nowhere. The great thing about him is he is never scared to receive the ball, he's never fazed, he's always keen and available.
"That's a great example to everyone, especially the young players who are new to the international scene. You see him play with that air of confidence, that Rooney swagger and that makes a huge difference to you, too. His style, his attitude can lift you and help you deal with the pressure and the tension. That's how important he is for England."