Spain news
Negredo: I have a role to play
Striker offers attacking alternative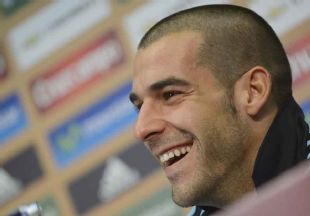 Spain striker Alvaro Negredo has insisted that he can play a role for Vicente Del Bosque's side in Euro 2012 should he be called upon as a starter or substitute.
Negredo, 26, who scored in Spain's pre-tournament win over South Korea, has found himself sitting on the substitute's bench so far at the tournament, with Cesc Fabregas and Fernando Torres favoured in attack.
The Sevilla striker, though, believes he offers a different option to the side that can be utilised by his team when a change of attack is called for.
"The coach has three outright strikers here, and each of us are pretty distinct," Negredo said. "Fernando [Torres] is very quick and mobile and that makes him very powerful over the last few metres in front of goal. That's important for Spain.
"Fernando Llorente is big and strong and when a game is going against us, when our opponents won't let us dominate, he provides an out ball which we don't normally use, but which can be effective. As for me, I try to link well with my team-mates and be in the right place at the right time, and that's what I'm trying to make the coach see!"
Negredo also revealed that he had been in touch with Sevilla team-mate Ivan Rakitic ahead of Spain's meeting with Croatia on Monday. However, he insists they have not discussed the match itself.
"I congratulated him on their game and we spoke about other things, like his family and how he was, because we get on well at Sevilla," he added. "We didn't talk about playing each other in the last group game."