Ukraine news
England 'will be easier than France'
Ukraine's Anatoliy Tymoschuk optimistic despite defeat to French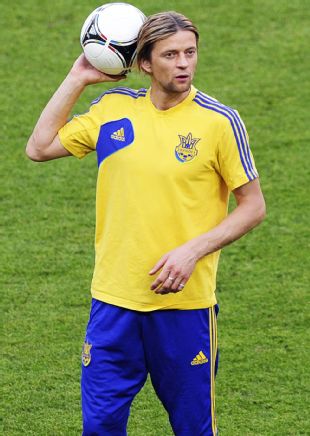 Ukraine can get to the Euro 2012 quarter-finals because their final group game against England will be easier than facing France, midfielder Anatoliy Tymoschuk has said.
The co-hosts, who beat Sweden 2-1 in their opening Group D game, lost 2-0 to the French in a storm-delayed match in Donetsk. Play was suspended for an hour after torrential rain and lightning made conditions too treacherous for the game to continue.
Despite that defeat, Ukraine will go through to the last eight if they beat England - but Roy Hodgson's team need only a draw to progress.
Tymoschuk said: "We need to go forward and play the next game well. I think it's possible to get a 1-0 win. We need to play more compactly, perhaps control the ball more in defence, control all areas of the pitch and go forward on counter-attacks.
"It's going to be a good game. England are a top team, but I think it will be easier than playing against France. We have nothing to lose."
He lamented his team's failure to control the ball better and said they had paid for missing chances in both halves, but paid tribute to France's quality. "We haven't really faced such strong opponents before," he said. "The French are very technical in the way they control the ball.
"We did all we could in order to prevent them from getting the upper hand. I think that their skill was key, and they were able to use our mistakes to their own advantage.
"We had some good possibilities for counter-attacks, [but] the French got the better of it because of their individual quality. There were opportunities - we were able to get in behind their defence and had a number of potentially good moments, but could not finish them."
His comments were echoed by forward Marko Devic, who said France "played better than us tonight – they passed the ball so well, while we didn't at all."
Devic said he was convinced that coach Oleg Blokhin knows exactly how Ukraine can beat England, but warned: "They are strong opponents, maybe one of the best in Europe. We have to play even better than we played against Sweden and get the points we need to advance in the tournament."
An angry Blokhin accused his players of basking in the glory of their opening group win against the Swedes, when two strikes from national hero Andriy Shevchenko saw them recover from a goal down.
He said: "If we thought we were through, we were wrong. I think some players thought that, and we'll have a serious conversation with them.
"We will analyse this. Of course we are not happy - the fans aren't happy and nor am I. But I can't change anything. I can't change the result. We still have one game left against England, and we need to prepare properly."