Italy news
Prandelli expects Balotelli response
Coach hints he will resist calls to drop striker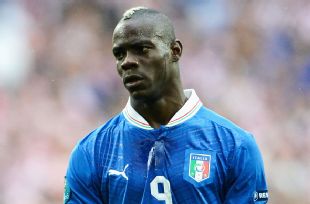 Italy coach Cesare Prandelli has rallied behind Mario Balotelli and expects the embattled striker to respond in style against Ireland.
- Must win game ahead for Azzurri
The Azzurri's Euro 2012 fate is out of their hands, as even if they crush Ireland a 2-2 draw between Spain and Croatia would take those two through from Group C at the expense of Italy.
Prandelli has admitted he shouted himself hoarse giving instructions to Balotelli in the draw with Croatia. The Manchester City man was hauled off with 20 minutes remaining and there are calls for him to be dumped, but he is likely to be given a further chance against Ireland.
"I will never abandon him but no one must say 'I' in our squad," Prandelli said. "You are asking me how long Italy must wait for Balotelli to help us. Three days. We are expecting a big reaction from him."
Commenting on his decision to withdraw Balotelli, Prandelli said: "The substitution of Mario? I lost my voice screaming at him for 15 minutes and I didn't succeed in correcting his positional play.
"If we love this lad, we have to tell him these things, tell him the truth. If you want to become a great player, you have to know how to live with difficulties.
"He was dropping deep but didn't have the ball. Either you drop deep and get the ball or you offer me an outlet up front deep inside their half."